The story of the Rose Tree Museum is the story of Tombstone, Arizona, the people who lived there, and one family's dedication and devotion to the town they love and call home.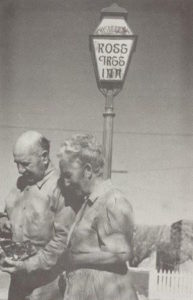 In 1964, the children and grandchildren of James H. Macia and Ethel Robertson Macia opened the Rose Tree Museum as a tribute to their pioneer parents and grandparents who helped settle this area. Their descendants continue to live in Tombstone today and maintain this unique and historical landmark.
Nicknamed 'Tombstone's Original Shady Lady' by proprietress Dorothy Devere, the World's Largest Rose Tree is located in the backyard and provides a cool and shady place to take a break during your visit to Tombstone.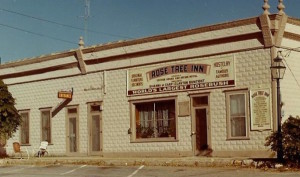 Inside, you will find memorabilia from Tombstone's early days and the Robertson – Macia family.  There are several historical collections along with dioramas of both the Lucky Cuss Mine and the Gunfight at the OK Corral. 
The bookshop carries a variety of interesting books on the history and culture of the local area.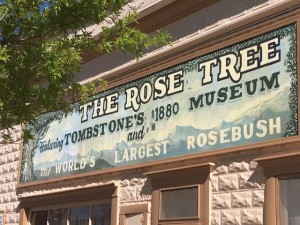 Whether you're a rose lover, a history buff, or just someone looking for a shady spot to sit a spell, the Rose Tree Museum will fit the bill, and you just might learn something about life beyond the gunfight. Step into the 1880's at the Rose Tree Museum, and get to know the pioneer families who settled Tombstone, Arizona and made it the 'Town Too Tough to Die.'
The museum is closed on Thanksgiving and Christmas days.